We have had our business now since December 2010 for 5 years, over the past few years we have strived to implement more and more best practice in our business and these practices have in as much as possible been eco orientated and focused in the local economy.
We are focused and committed to the following:
We use fuels in our stove for our primary heating that are sourced in the county, our turf comes off bogs that are not in environmentally sensitive areas and are harvested by small scale family operators.
We reduce the amount of energy we need to purchase for heating water by using water heated by our Solar tubes and use hot water sparingly.
We are constantly striving to make our premises more energy efficient and kinder to the environment, In January 2016 we have completed an insulation upgrade in the downstairs of the B&B, we plan to follow this with a phased replacement of windows throughout the building, starting in the spring with B&B room windows and breakfast room windows from single glaze to energy efficient triple glaze, we have also upgraded the attic insulation.
We are changing our refrigeration in the bar, Beer cooling will be changed with a €14k investment in Beer Cooling technology reducing our energy usage by 60% and we are putting in walk in fridges for our food stores making our food refrigeration more stable and this new food walk in fridge will replace some of the older less efficient units in the kitchen presently, for a €5k investment we forecast a 40% reduction in energy usage..
We are after renovating the ground floor of the B&B and are reusing some of the old furniture by restoring it ourselves.
We are looking at changing our energy suppliers at the moment, we are looking to see who uses more renewables as a percentage of energy created for the national grid and this will influence our decision.
When deciding on throws for our B&B beds we went to Foxford Woollen Mills for the throws for the beds, its local as in Mayo and totally Irish made
Drink
We try to promote craft breweries that minimalize their carbon footprint by growing their own hops and using locally grown grain, during the season we stock and promote up to 30 Irish craft beers in bottle format
We aim to promote craft beer sales on tap as it produces no glass waste.
Our wine list is now since June 2015 totally European, we have moved to European grown wines to reduce the travel distance and carbon footprint of the wine, about 30% of our summer wine list is organic and quite a few bins are also biodynamic.
Food and Suppliers
We in as much as possible buy all our fish locally or in the county of galway, one of our fish suppliers Gannet Fishmongers uses as of 2015 an electric van for deliveries.
We buy our breakfast meats locally and promote them on the menu
We have changed our coffee and tea offering to Fairtrade certified in the pub, our herbal teas are going to move to Solaris tea's, these are farmer sourced and imported directly to galway and packaged with the farmer getting the full value of the crop.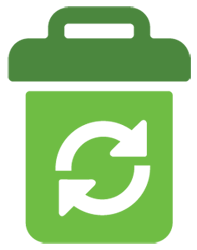 We have moved from using miniature amenities in our B&B bathrooms to bulk refillable units and this will dramatically reduce plastic waste, we were generating circa 2912 units of individual waste from toiletries alone per year when running at 40% occupancy, we now forecast we will generate 12 five litre empty drums per year, a portion of the waste, a dramatic reduction for the same level of business
We have moved to using environmentally friendlier products in our B&B and in bulk format, they are made from organic extracts
We have moved our cleaning range from single use products to a suite of products that are made in house from concentrate into refillable bottles from an environmentally friendly range, they are made totally phosphate free, again this will dramatically reduce the amount of plastic waste generated per year.
It is our plan to move to Echo water to replace all our bottled mineral water, we will dispense it from a font on the bar counter both still and sparkling, we have removed all plastic bottle mineral water from the pub.
We try to buy glass products in the bar that we can crush on site and reuse as building fill, last year we crushed somewhere in the region of 10 tonnes of glass.
In 2014 we generated 6025kg of waste going into landfill with Barna waste, in 2015 with improved practices we reduced our landfill contribution to 5185kg, we would like to reduce our landfill waste by a further 500kg in 2016.
We aim to promote local business and services for our guests and strive to promote the local economy
We will drive locally based experiences on the island for the betterment of the local community
We have researched an electric van for use on the island for collection of our deliveries and are keen to get one for the pub, this may be a 2017 project